Welcome to Luminus Solutions
Luminus Solutions and VMI Engineering & Contracting have joined forces and are continuing as one strong brand. In this way, we are combining 25 years of expertise in CHP and uninterrupted power with innovative energy solutions for buildings and industry.
Our mission: Save, protect and manage your energy… that is what we guarantee you!
How do we do it? With a unique mix of skills and expertise and a personal approach.
Because every customer is different, and so is every solution!
Together, we take on the challenge of the energy transition!
Our approach
At Luminus Solutions, we believe in long-term sustainable partnerships to ensure that our planet has a green future.
This is why we have created a range of energy-saving solutions, enabling you to reduce your carbon footprint, optimise your energy consumption and secure your energy needs.
We guide you through your energy transition according to your wishes and we develop, design, build, maintain and invest in your installation. Moreover, we guarantee that you will save.
Our solutions
Efficient use of energy is crucial in the fight against global warming. For companies, besides an environmental gain, it also means saving energy themselves. With our customised solutions, we help you reduce your energy consumption and carbon footprint, secure your energy needs and manage your energy installations.
Are your technical installations ready for an energy-efficient future?
Looking for a customised solution?
Our experts will be happy to help you.
What do we do for our customers?
Check out our realisations!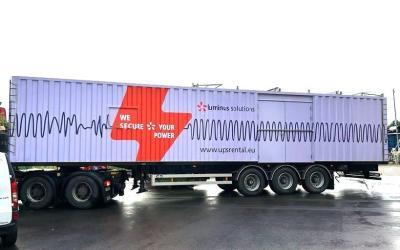 Luminus Solutions' 1600 kVA mobile UPS system recently gained some useful new features. This allows Luminus Solutions to offer even more flexibility and gives their customers a more detailed insight into their power supplies. The installation was also given a new look...
read more