Our mission
To contribute to a green future for our planet in a sustainable partnership with our customers.
The individual support of you as a customer is central to us. No bite-sized or standard solutions, but tailor-made projects that we follow together with you in order to help you save as much energy as possible.
Our strength lies not only in what we do, but especially in how we do it: with a unique mix of expertise and technical know-how, we help you from the very first concept, through the design and build phase to the financing and maintenance of your installations. With the guarantee that you will save!
1994 - 2020

VMI Engineering & Contracting built up 25 years of expertise in uninterruptible power supply and decentralised energy generation for industry and the healthcare sector in Belgium, France and Switzerland

2016

VMI Engineering & Contracting becomes part of the Luminus group.

Luminus Solutions is founded by Luminus and Dalkia (EDF). Luminus Solutions develops energy-saving solutions for B2B customers in Belgium. The company quickly became a leader in the field of energy performance contracts and also provides maintenance of technical installations in buildings.

2019

VMI Engineering & Contracting and Luminus Solutions join forces in one team and work together to increase their customers' energy efficiency under the brand name Luminus Solutions.

2020

With this merger, Luminus Solutions strengthens itself as a supplier of integrated solutions for energy efficiency and local energy production in healthcare, tertiary sector and industry.
Our team
We are a diverse team of driven employees and specialists in the different fields of energy. We develop, design, realise and maintain your projects with daily enthusiasm and a pragmatic approach.
International
Luminus Solutions is mainly active in Belgium, but also has an international arm in France and Switzerland for projects related to ensuring power quality.
A strong group
Luminus Solutions is a subsidiary of Luminus and Dalkia, both part of the French EDF.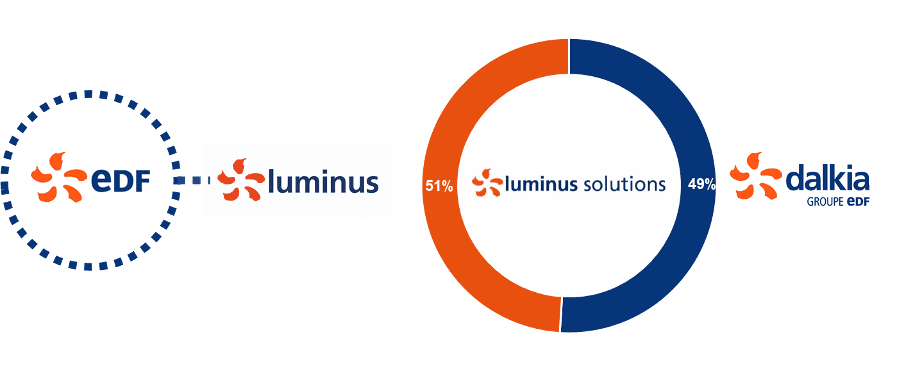 The Luminus Group consists of a network of subsidiariesin various fields: electrical engineering, HVAC, installation of solar panels, batteries, insulation, home repairs, cogeneration, power quality and energy performance contracts.
Luminus Solutions combines and integrates the expertise of all the partners in the group to create unique energy efficiency solutions tailored to the needs of our customers.