On 7 September 2022, Luminus Solutions signed an ambitious energy performance contract with the city of Charleroi. Thanks to this public contract from procurement centre RenoWatt, the city of Charleroi will be able to save just over 50% on its energy expenditure and drastically reduce CO2 emissions from 16 buildings.
After several months of building visits, studies, meetings and negotiations, Luminus Solutions was awarded a long-type energy performance contract.
As part of this assignment, Luminus Solutions will implement energy-saving measures totalling more than 50 million euros in various municipal buildings. More specifically, in eight large schools, six sports complexes, a crèche and a multi-purpose hall.
The works include: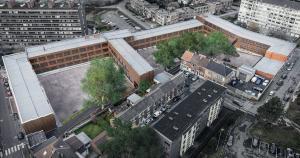 Insulation of facades and building envelope
Replacement of windows
Installation of 1.4 MWp of solar panels
Renovation of the boiler rooms
Installation of a biomass boiler
Relighting at several sites
Installation of ventilation systems on almost all sites or adaptation of existing systems to current standards
This will allow the city to reduce the energy consumption of these buildings by more than 50%, while reducing greenhouse gas emissions and increasing comfort for users.
A positive impact on the local economy, employment and environment
Luminus Solutions will use local companies to carry out the works. The four local partners with which Luminus Solutions developed the project (IGRETEC, Réservoir A (architects) and construction companies BEMAT and Duchêne) will also have a major role in its implementation. In addition, just over 26,000 hours will be provided for training or social economy enterprises. Moreover, an awareness campaign for users is also envisaged.
And an important ecological plus: Luminus Solutions undertakes to offset the remaining CO2 emissions after the works and during the maintenance period by planting more than 7,000 trees in the region. Thus, the project will eventually become CO2 neutral.
An effective tool to address environmental challenges
By signing the energy performance contract (EPC) with Charleroi, Luminus Solutions commits to reducing energy consumption by investing in high-performance equipment and guaranteeing the optimal maintenance of that equipment for 15 years. Thus, Luminus Solutions guarantees a primary energy saving of 51.2% and a CO2 saving of 2258 tonnes of CO2/year, equivalent to -58.3%.
Such an EPC is a very interesting formula for the customer, as Raoul Nihart, CEO of Luminus Solutions, explains: "It allows a government to sustainably reduce its energy consumption on various sites. The EPC provides a series of energy-saving interventions as well as maintenance services that allow us to make a long-term commitment. With the EPC, local authorities have an effective tool to address environmental challenges."
Xavier Desgain, City Deputy for Buildings and Energy: "This agreement between Renowatt and the City of Charleroi is historic in its scale and scope, and I am delighted and congratulate everyone who has worked on this project. Despite a particularly turbulent energy context, we remain committed to energy independence and the decarbonisation of our public services. Above all, in the same context, it will allow us to realise significant savings that can be allocated to other policy areas."
About RenoWatt, facilitator of energy renovations in Wallonia
RenoWatt aims to assist participating public authorities in their energy transition. This delegated mission of the Walloon government enjoys the support of the ELENA investment programme, a joint initiative of the European Investment Bank (EIB) and the European Commission under the Horizon 2020 programme. Launched in 2009, the ELENA programme has allocated a total of more than €180 million in EU funds, generating an estimated investment volume of around €6.6 billion (by the end of 2019). RenoWatt is a one-stop-shop that carries out energy audits and technical studies with a view to the energy renovation of public buildings, either through energy performance contracting (EPC) or design and build contracts (D&B). RenoWatt selects renovation-worthy buildings, bundles them, initiates public tendering procedures and guides public authorities in the implementation of the projects. Currently, RenoWatt has almost 100 members (cities, municipalities, provinces, relief and police zones, hospitals, etc.) and also makes its expertise available to other public bodies.