The AB Inbev brewery in Jupille recently started producing its own green heat and electricity with a new CHP installation by Luminus Solutions. It uses the biogas from the brewery's water treatment plant as fuel. AB Inbev is thus reducing its climate impact and energy bill.
AB Inbev has set the goal of being climate-neutral across its entire value chain by 2040. A first major milestone in that process is to reach 'Net Zero' by 2028 in its five largest European breweries, including Jupille and Leuven. Luminus has already installed more than 4,000 solar panels on these two sites. The Jupille brewery also called in Luminus Solutions to further green its energy consumption in an ingenious and circular way.
Homegrown heat and electricity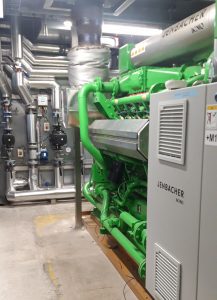 During the summer of 2021, Luminus Solutions installed a 635 KWe cogeneration plant in the Jupille brewery. It produces both electricity and heat in the form of hot water and steam for the production process. As primary fuel, the CHP uses biogas from the brewery's water treatment plant. In this way, AB Inbev significantly increases the energy efficiency of the entire site, good for a saving of 150,000€ on their electricity bill. The installation was fully financed by Luminus Solutions, which recovers its investment thanks to the proceeds from the green certificates.
It is therefore not the first time that AB Inbev has opted for this formula. Back in 2004, Luminus Solutions (then Vanparijs Engineers) delivered a similar biogas CHP installation for the Hoegaarden site. It has since been renewed once and today still supplies 195 KWe for the brewery's water purification. The fact that Luminus Solutions by now has some experience with this type of set-up can also be seen in the new CHP in Jupille.
Designed for optimal performance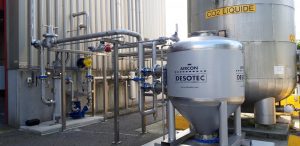 The plant in Jupille is scheduled to run for about 7,000 hours a year. At that time, it can supply 3500 MWh of electricity, 2000 MWh of steam and over 1100 MWh of high temperature heat. This performance is possible thanks to an optimised design. To reduce the number of start-stop cycles, there are two storage tanks that can store a total of 100 m³ of biogas to make up for interruptions in supply. An active carbon filter limits the amount of H2S that enters the engine along with the biogas.
The plant also generates steam in a separate generator that uses the heat from the CHP exhaust gases. This provides up to 309 kWth of steam and so the existing steam boilers only have to start up when the steam demand on the site is even greater. The boilers themselves also receive an efficiency boost: the CHP supplies high-temperature hot water to preheat the air supply to the boilers, among other things.
Thanks to this highly efficient energy generation, AB Inbev achieves primary energy savings of 10,000 MWh per year. A great positive impact on their sustainability goals!